Medical Esthetician, Myah Wilcher, is the proud owner of Tres' Belle Beauty Bar & Spa. "Tres' Belle" is French for very beautiful. Myah's mother is French. She wanted her business name to reflect her beautiful mother's heart and spirit. She is also passionate about making "very beautiful" skin.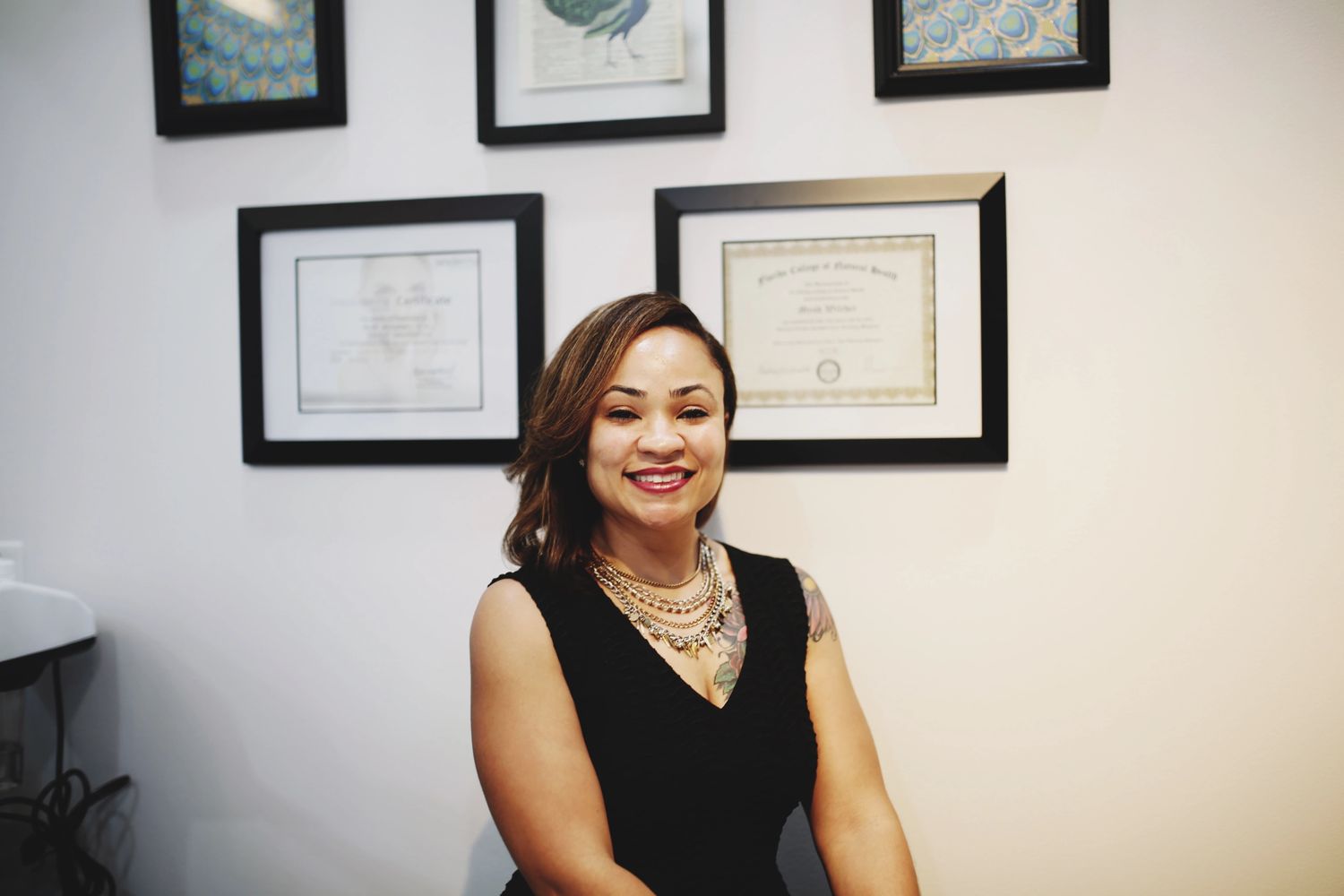 Myah holds over 11 years of experience in dermatology and aesthetics. She is from Oakland, California and has resided in Florida for four years.
Working for University of Oklahoma Cosmetic Dermatologist, Dr. Pamela Allen inspired Myah to care for skin. She worked as her medical assistant and received certifications to operate the dermatology clinic.
Tres' Belle Beauty Bar & Spa offers a variety of skincare service offerings. Some of the specialties include:
Acne Facials
Acne facials are a full face deep extraction and properly cleans and tones the skin. A high-frequency blue light reduces inflammation and bacteria. This method minimizes the reoccurrence of acne.
Microneedling
Microneedling is collagen induction therapy for scars, stretch marks, wrinkles, large pores, melasma. This treatment reduces the appearance of the marks on the skin.
Eyebrow Shaping
Consists of a dermaplaning technique to enhance the natural arch of the eyebrow.
Myah has always had the heart to serve others, and that will never change. For the past seven years, Myah has served our country in the United States Air Force Reserves. She works in logistics and is in charge of moving parts – shipping and receiving. She even drives semi-trucks and forklifts. Myah said, "I am very proud to put on my uniform, it means a lot to serve our country. I joined because I really wanted to serve our country."
In Myah's spare time she enjoys spending time with her "world" – her three children who are ages 19, 18, and 5. She also enjoys attending lacrosse games, going to the park, and Chuck E. Cheese's.
Myah loves iStudio Salons salon suite concept. She enjoys the independence of owning [her] own business without the overhead." She also loves the camaraderie with the other salon professionals. She says between clients. She's able to refer her clients to other salon professionals since it's a "one-stop shop."
In the future, Myah aspires to have a larger medical spa. She also wants to teach skin care in corporate environments on a part-time basis.
Myah's advice for future estheticians is to learn the ends and outs to the skin. Also, know the "why" to everything you are doing. Myah shared, "if you know how and why you're treating acne, you will be more successful."
Follow Myah:
Click here to book an appointment with Myah.